Biographical and Genealogical information about George Gorton I
| | | |
| --- | --- | --- |
| George Gorton I | Dec. 25, 1825 - 14 June, 1888 | born in Rochdale, England. |
| Ann Buffham | Oct 21, 1832 - Oct. 16, 1862 | born in Rochdale, England; George's first wife |
| Elizabeth Buffham | April 8, 1838 - April 9, 1914 | born in Rochdale, England; George's second wife |
George I & Lizzie, date unknown.



A later (in life) photo of George I, date unknown


The passenger manifest for the ship Constellation, out of Liverpool, Oct. 2, 1850 arriving at the port of New York shows the following people were on said ship (and their ages):

| | |
| --- | --- |
| Wm Buffham | 40 |
| Mrs. Buffham | 40 |
| Wm. Buffham | 18 |
| Anne Buffham | 17 |
| John Buffham | 15 |
| Eliza Buffham | 12 |
| George Buffham | 9 |
| King (Kirkpatrick) Buffham | 7 |
| George Gorton | 23 |
| Henry Gorton | 16 |
The ages are off by 10 years (low) on Wm. & Mrs. Buffham, and by a year for George Gorton I. The most detail to be found about George I comes from [Port92]. He emigrated in 1850 to Southport (now Kenosha), where he was a drug clerk for a Mr. Robinson (possibly Hon. Frederick Robinson, based on a description in [Port79]), who was a druggist at that time. About 1851, George I relocated to Racine, and had a business partnership with Philip Thorpe as Gorton & Thorpe, druggist and grocers. This is listed as having continued until January, 1864, and is implied by [Hist16] as being the the first drug store of Racine. One rather surprising revelation about this business comes from [GG2mem], which notes that Gorton & Thorpe exported BUTTER! to England.
Ann Buffham emigrated with her parents to Lake County, Illinois in October, 1850.
On 6 July, 1854, George I and Ann married, and had three daughters, Minnie, Eliza, and Annie. Ann (George's first wife) died in October, 1862. The obituary (22 Oct, 1862 Racine Weekly Advocate) describes: "Her health has been quite feeble for 6 months past, but for some weeks previous to her death she was apparently improving. Last Thur. eve., after hearing her little ones say their nightly prayers, she sat down with her sister to sing the beautiful S.S (Sunday School?) hymn "Homeward bound". As soon as the piece was finished, she went toward the bed, sayingi shw was faint & falling upon it expired almost instantly without a struggle or groan.
George married Ann's younger sister, Lizzie, on 9 May, 1864.
George II was born on 5 February, 1865. According to [GG2mem], sometime in 1866-1867, the entire family (sans George II, who was left with his grandparents Buffham in Milbourn, IL) returned to England to find a home. They purchased a home at Douglas, Isle of Mann, and after returning to Racine, packed everything up and relocated to Douglas. The family stayed there for a bit more than a year, at which time they re-emigrated to Racine. Apparently George I had decided that moving to America had been a mistake, but after a year back in England, both George and Lizzie came to the decision that "the opportunities and chances for happiness were present in the United States" and moved back. There is a notice in the Racine Weekly Advocate [News] on 23 Aug, 1865 that "George Gorton will leave Racine for several year's absence about the 1st of Oct. He offers his house and lot on Pearl St., near the Presby. Church for sale. Stable and lot on Wisconsin St.; also buggy and harness. A similar repeat of the notice also appeared in the Sept 13th, 1865 issue.
Upon their return to Racine, they lived in a cottage on the 900 block of 13th street. This time, George I went into business with his brother-in-law, William S. Buffham (as Gorton & Buffham) selling paints, oils, and wallpaper. According to a newspaper article (probably Racine Journal Times) from 1 July, 1934, (ref: archives of [RHM]) George I, and W.S. Buffham bought out Bronard & Heyer in 1870, and operated as Gorton & Buffham until 1888; at that time, W.S. bought George I out, and the firm changed its name to W.S. Buffham & Son. This business survived until at least 1934, based upon a 45 page catalog.
About 1870, the family moved to a house at 1113 Thirteenth St, purchased from John Tapley (of the J.I. Case company).


Sometime after George went into the paint business with W.S. Buffham, he made a large loan to the Racine Basket Manufacturing Co., (then located at the northwest corner of Clark and 14th St.) and when the company failed to pay back the original loan, he "was compelled" to invest enough more money to acquire Racine Basket ( [GG2mem])
The basket company was housed in wooden buildings until completely destroyed in a fire in 1878, at which time George I had the factory rebuilt out of brick and stone. At the time of his death (14 June, 1888) Racine Basket was apparently a rather prosperous firm. Indeed, [Port92] describes the factory as having at least 45,000 square feet of manufacturing space, as well as a storage area of 359,000 cubic feet, and employing (during the 1891 'season') around 200 people. George I was a Republican, and attended the Baptist church (presumably First Baptist of Racine).
Photos of the Gorton and Buffham Paint company, circa 1885



George I died in Racine on 14 June, 1888 - [GG2mem] indicates this was a combination of "overwork and a nervous breakdown caused by worry over a business transaction which put him considerably in debt through no fault of his own."
Other misc. newspaper references (not verified)
These are all [News] items referenced by 3x5 file cards in the archives of [RHM].
Morning Advocate - 20 Sept, 1854. Partnership with Robison and Thorp The article reads:
Dissolution. The partnership heretofore existing between Philip Thorp and F. Robinson, in the business of Drugs, Medicines and Groceries, is this day dissolved by mutual consent. The business will in future be carried on by Philip Thorp and George Gorton, who are duly authorized to settle the business of the old firm.
Sept 7, 1854
F. Robinson, Philip Thorp, George Gorton
Advertisements in papers of the period have ads for a product called "Camphine" carried by Thorp and Gorton.
Racine Weekly Advocate - 30 Sept. 1863 - listed as druggist and chemist at 148 Main St.
Daily Journal - 15 June, 1888. Obituary: died at home (1163 13th St.) of "paralysis of the brain". For 16 years he was a druggist at Thorpe & Gorton; Sole proprietor of Racine Basket Manufacturing Co. and senior member of Gorton & Buffham Paint Co. Survived by a wife, 6 children, 2 sisters (Mrs. Holt and Mrs. McAllister of Chicago) and 3 brothers (Hugh and Henry of Racine, James of Rock City).
The death registration also lists cause of death as "Paralysis of the Brain".


Tax Records
Amazingly enough, the Racine Heritage Museum had original tax reciepts for 1866 thru 1891 for the property of George Gorton I; some of the early ones are for the same property, but for the owner prior to George Gorton.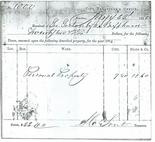 Copyright, 2004 - 2015 Richard Gorton - rcgorton@verizon.net
Please contact me if you wish to use images or content herein